While we patiently/gleefully await our wedding photos, I thought I'd share our engagement story, then some pics from our engagement shoot.
It was Memorial Day week (yes, just a few months ago) and we were smack in the middle of our East Coast road-trip. The goal was to visit a bunch of family/friends and for each of us to meet the others' East Coast loved ones.
We started in Boston for a friend's law school graduation (and to get some QT with my bestie and some of my family), then headed to NYC/Brooklyn/Jersey for a few days to see
more
family and friends.
In both places, everyone was being a little weird- I couldn't quite put my finger on it, but I sensed something was up. What, I didn't yet know...so I just went with it. Two things that should've tipped me off: 1) My best friend Sam who we were staying with in Boston
insisted
that I go get a manicure- I figured she was just being a good friend and wanted me to have pretty nails, and 2) Shawn was
super
nervous about leaving our rental car
anywhere
in Brooklyn or NYC- I couldn't get why our luggage was so valuable.
From there, we went to DC, and then concluded our trip in Virgina Beach and Norfolk, where Shawn went to school, to visit/meet more lovely friends.
The whole trip was amazing, but since this is Our Engagement Story, let's get to the juicy part.
We got to DC, where I'd never been before (besides the 10 freezing hours we were there on our layover to
Africa back in February
). We arrived in DC, checked into our hotel, and went for a walk to get a casual dinner. He's probably going to roll his eyes when he reads this, but Shawn, who is
never
nervous, could only have been described as that! After dinner, he insisted we go for a walk down to the water. We had driven for most of the day so I would've been happy to go to our room and crash, but I obliged. Walking toward the river, we spotted a really sweet little canal, so decided to walk down there to check it out. The water was mossy and beautiful and there was this cute little bridge and no one else there, I just had to take a picture.
And the next thing I know...my lovely boyfriend is down on one knee on that gravel path next to that cute little canal. I, of course, started crying, he said some very sweet things (which I will keep private!) and in his hand he had THE ring! It was so beautiful and I was shocked that he got
exactly
what I had dreamed of, though I had never told him (he heard from a little birdie aka my now sister-in-law).
It was all so very perfect. Simple, pure, sweet, just like our love. Nothing dramatic, nothing over-the-top, just us. I couldn't stop crying and giggling and the people we asked to take our picture probably thought I was a little nuts.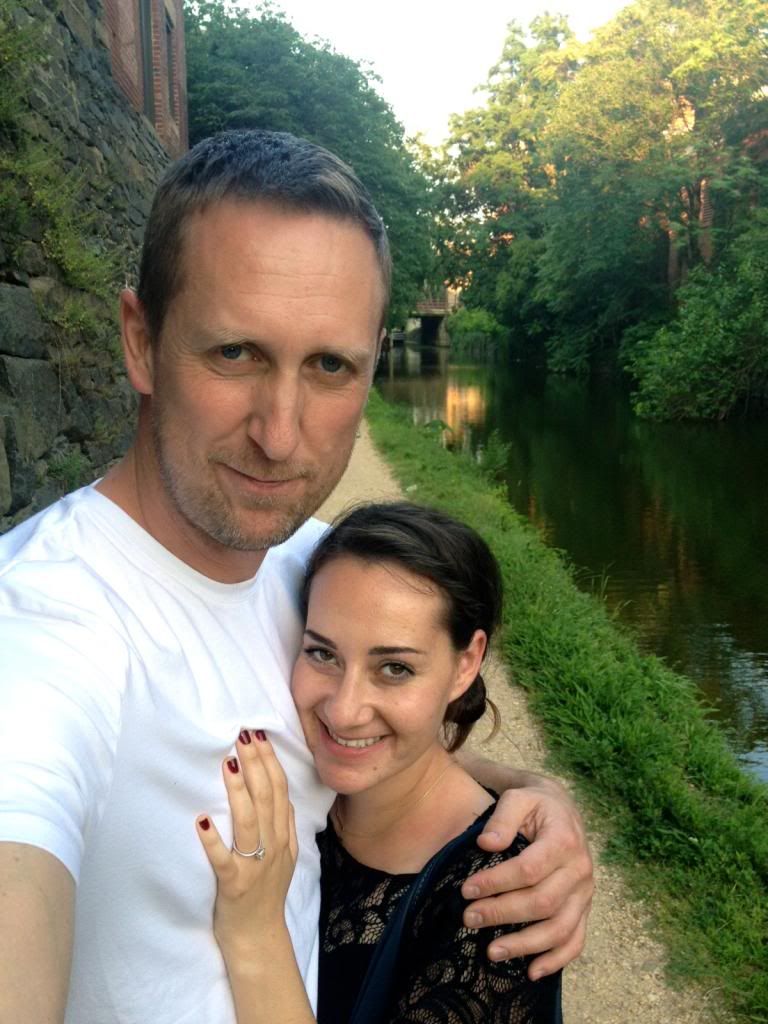 We called our families and close friends (ALL of whom already knew! Am I
that
oblivious?) We went to a nearby bar to celebrate, and there, 15 minutes after we got engaged, we decided on our wedding date (because that's how we wedding planners do it it- no time wasted!)
But really, we had talked about getting married outside and keeping it small with only our nearest and dearest. The one person that we couldn't call who would've been over the moon was my adorable grandma who had passed away almost 10 years ago. Her birthday was approaching, and it was right during the most perfect month here in San Francisco, so we decided on Oct. 20, the day before what would've been my grandma's 83rd birthday. It was perfect. And so soon!
While the planning was going on in the background, I decided to book an engagement shoot with our wedding photographer, the fabulous Kelly Boitano. My husband is not the biggest fan of photos, so I just wanted him to get comfortable with our photographer and her camera before the big day. (If you're recently engaged, this is a MUST!) I'm not gonna lie, it was pretty awkward, but we made the best of it, got some awesome shots, AND were professional models by the time the wedding came around ;)
Here's a sneak peek, and another
here
:
Check back in the next few days for the rest of our engagement photos and read more about our shoot.